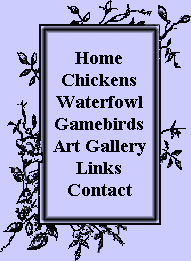 The Art Gallery has been updated!
Brigadoon Farm began as a small hobby farm in Wayne County, NY specializing in several species of birds. Over the years, I have been able to expand and improve my flocks. In addition, I have begun offering hatching eggs and show quality birds to the poultry fanciers in my local area, including schools, 4-Her's and private individuals. I have found this very rewarding! At the present time, I am only able to offer a selection of hatching eggs and possibly breeding stock to customers on the Net. Don't hesitate to e-mail me with any questions concerning availability and prices.
Think you may be suffering from Verbal Abuse?
Join my MSN Community Verbally Abusive Relationships