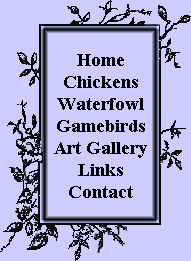 Links
I will be adding more and more links of places I like and find great information. If there are things you are interested in, please drop me a line and I'll find some pages on that subject.
The Poultry and Party Information Exchange--This is a great bunch of people who not only love to "talk chicken", but who like to share their life stories, funny jokes, and even occasional computer advice! It is a "family" atmosphere, but don't be intimidated by that. Everyone is invited to join the family and you will discover that everyone is extremely friendly and genuinely caring.
Jim Clary's CYBERLIBRARIES - An online reference to articles on aviculture compiled by Dr. Jim Clary of Manzano Valley Pheasantry. An EXCELLENT resource!!
The Easy Chicken--Scott Shilala's site especially tailored for beginners. Lots of great info here!
Diane's Exotic Birds--Diane raises silkie bantams and parrots. She sells black and white silkie hatching eggs as well as her hand-raised exotics. I bought a Senegal parrot from Diane and must recommend her highly! An added plus are her homemade crochet snowflakes.
Poultry Connection Online Auction--Lookin' to buy some birds or supplies? This is the place.
Feathersite- Barry Koffler's site which is just incredible!! You have to go see this place to believe it. He has pictures of most any kind of poultry breed you are interested in, and great information. Plenty of links!
The Egg Swapper's Board- A great place to sell, buy, or swap eggs
The Avian Classroom- I found this a great place to learn some basics
Stonegate Meadows--Of all the farms I have visited, Stacy Brockett's is the most clean and well-organized. She raises exhibition Black Australorps, Canada Geese, Nigerian Dwarf goats, and White-tailed deer! A must-see!
Paul Stump's CHIXPAGE--Good photos of Dominiques here and great plans for a coop and crate!
Crochet Musings Web Site Homepage--Here is a great resource for crochet patterns and tutorial
Crochet Guild of America--Everything crochet here.
Sewing Resources on the Net--A few resources for sewing software.
Teletubbies!!--OK,OK, yes I love the Teletubbies!! I've not only been brainwashed by an incredible marketing strategy, but by my own children! These characters have been created with toddlers in mind, stressing affection, independence, and discovery. You have to see them to believe it! I also have a free Teletubbies screensaver for you to download here.
The Clipart Directory--A good listing of all kinds of free graphics
Current Palette is a nice program for figuring out your hex values! It is a small file, 146K, and is freeware. It was published by Peter Beyersdorf for the Win 95/98 operating systems. Check it out!
The Java Boutique--One of the best applet resources on the Net. This site has a good index of Java applets including source code. Plus, there is a good tutorial.
Frontpage Homepage--If you are using Frontpage 98 as your html editor, then you should have this site bookmarked.
OZONE --This is Dr.Thaddeus Ozone's site. If you want to learn about javascript, making graphics, etc, go here!! This place is great to just look at!
The MidiFarm--You want Midi? Go here! Now!
Kyl's Fantasy Fonts--Fonts for downloading plus font tutorials.
Meet your Match! CLICK HERE to go to The Farm and Agriculture PersonalsPage
A Proud Member of the One & Only Associate Network
Native American Resources on the Net--This is a great place to start to find information on Indigenous People.
Turtle Island Productions--A film and video company that deals with Native American/First Nations issues. This is a great site for information on the First Nations Ojibwe. It has info on culture, history, Ojibwe resources, and other Anishinabe links!